FLATWARE AND SILVERWARE BUYERS TUCSON
It seems as though someone in every family has some flatware…. Auntie Bess or Grandma Jean, and you had to polish it for her. She told you how valuable it was to her and the family. Sometimes family stories are true, other times they are more of a myth. There is a good chance that those rare silver articles are neither silver nor rare! Put down the rouge cloth and pack up the silverware, holloware and flatware and come down to Old Pueblo Coin, Tucson's silver and flatware buyer.
How does it work?
Bring your Silverware, Flatware and Holloware to Old Pueblo Coin
We will sort your silver by purity.
We will weigh your silver in front of you
We will check to see if items are weighted
We will give you a price based on the current price of silver
You are free to check around. No strings. No Cost. No pressure.
Our Golden Rule philosophy is pretty easy to follow. We are consumers as well, and know what it is like to be treated well or treated poorly. We want you to keep coming back.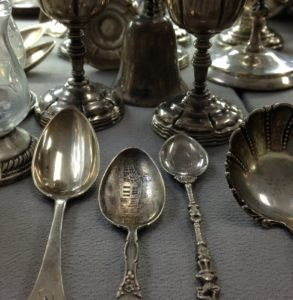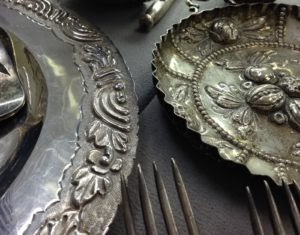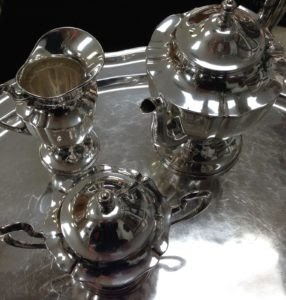 WHAT IS STERLING SILVER?
Sterling silver is a mixture of 92.5% silver and 7.5% alloy. It is often used in jewelry today. It was once considered the highest quality of silver and was used in silverware (flatware made from sterling silver) and in Holloware (table accessories such as pitchers, butter dishes, sugar dishes, salt and pepper shakers et al).
HOW DO I TELL IF I HAVE STERLING SILVER FLATWARE?
Sterling silver flatware has value because it is made from sterling silver. A lot of flatware is not silver. If your flatware is not silver it is not valuable. There are common distinguishing marks on sterling flatware that makes it silverware. The first picture below is of plated silver. These items will often say "plated", "A1", "Soldiered", or "Triple X". Most flatware that families have are plated and not sterling flatware.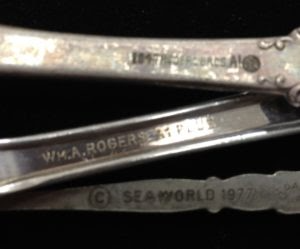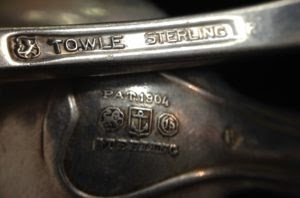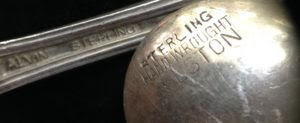 Most flatware that is truly silverware, and made of sterling silver, will be marked with the word "Sterling" or the number ".925″. Below are a couple of examples of that. There are occasions when silver will be from a different country and will have a different purity. You may see marks like ".800" or "Coin" or ".835″. These are most likely silver flatware or holloware that are of a lower purity than sterling silver. They will still have value to them.
There are some items that are old enough that they are not marked. Some items will only have hallmarks on them. Bring your silver flatware to Old Pueblo Coin at Speedway and Columbus and we can help you identify your silver items and what value they have.
What about Candlesticks?
Sterling silver candlesticks are among the items people find with their family's silver heirlooms. They vary in size, shape, purity and value. Occasionally they will be solid silver. However, the ones we see the most frequently are single candle stands with a heavy round base. Let me pop your bubble right away-- almost all candlesticks of this shape are weighted. Most of them will be marked "Weighted" or "Filled" on the base.
A composite clay is what we see most frequently for the filling. What is most amazing is the production process that was used to make these silver candle sticks. Once you peel away the base, the silver portion is only slightly thicker than tin foil!
Inside the silver candlestick you will find composite clay and metal bars holding things in place. You need a good set of pliers to pull the silver back. Be very careful because these sterling silver candlesticks can have very sharp edges.
Once you peel off the top and the bottom you can usually bang the clay with a hammer (over a trash can please) and the materials fall out. Some of them are easier to open than others. Some make more of a mess than others!
For many weighted sterling silver candlesticks, approximately 90% of this sterling silver candlestick is NOT SILVER! So as far as the value of sterling silver candlesticks goes you can see that they may look like valuable family treasures, but they may only be worth $5 or $10 each. So if your wife likes these candlestick holders, and will use them, then it may be worth holding on to. If you have not lit a candle in 25 years then maybe it is time to part with your families sterling silver candlesticks!